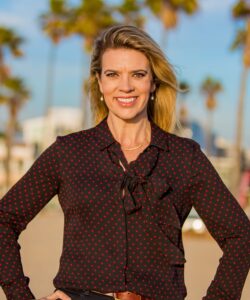 Wife, Mother, Daughter, Sister, Business owner, Non-profit founder, Community leader, Conservative and ranked in the top 1% of Realtors nationwide, with a real estate background in the US, China, India, and Mexico. Alison MacCracken has acquired a wealth of knowledge in life, liberty, cultural diversity, real estate acquisitions, dispositions, development, and market research across the globe. In and outside of her career, Alison holds a special place in her heart for older adults and their families.
Alison serves as a founding board member and vice-chair of Westside Pacific Villages, a non-profit organization assisting senior citizens with remaining in their homes as they age in her hometown of Los Angeles. She is also involved with the Village Movement for seniors at a local, state, and national level. Alison supports the Alzheimer's Association and the Leukemia and Lymphoma Society's in support of her sister, a survivor of acute lymphoblastic leukemia, and is a member of and the Beverly Hills Chamber of Commerce.
In 2008, Alison transitioned from commercial real estate to residential real estate and began building The MacCracken Team, a group of highly qualified Realtors who are certified Senior Real Estate Specialists. The MacCracken Team excels in representing the 55+ population. Prior to joining Sotheby's International Realty, Alison worked with top Fortune 500 companies and developers including Morgan Stanley, Gerrity International, Walmart, SCITIC CP, and Mantri.