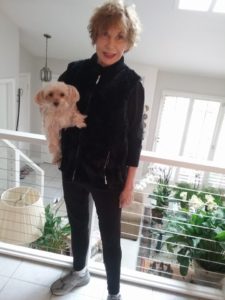 I'm a retired Art teacher by profession, and a widow of six years. My husband was Daniel Chase Robinson, a physicist at Aerospace Corp., a think tank comparable to Rand Corp., a non-profit "think tank" which did much work with the Pentagon.
I've been President of National Arts Association, a present member and Board Member of The League for Children, a present member and Board Member of Freedom Foundation, was a member of The Beverly Hills Women's Club, and currently a member of The Marina del Rey Women's Club and Santa Women's Club.
My husband and I traveled all over the world extensively. I now live with my two darling yorkie furbabies.
MISSION STATEMENT:
I've been a supporter and contributor to President Trump, as soon as I heard he was running. I and my husband have belonged to the Republican party forever. I supported President Trump because I knew our country desperately needed a change. I continue to support President Trump both in contributions and support in any way. I live in California and am so sorry to see this beautiful state ruined by the Dems. I'm originally from Chicago and came to California after I graduated from college. Unfortunately it is not the same state to which I came many years ago. I would like to become a Trumpette, because I want to do all I can to support him, have him reelected in 2020 and MAKE AMERICA GREAT AGAIN.
I would like to send a picture on my phone or pad, but my photos have been too large to send. I hope you can receive the photo attachment. I think I'll send it in another email too you right now, so I don't lose what I've written.