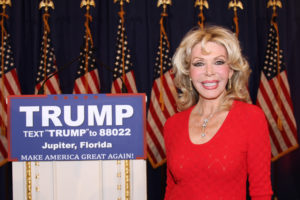 Toni Holt Kramer, a woman of major versatility, has had a life as multi-faceted as one can dream. From her childhood days as a cover girl model with the Huntington Hartford Agency to her illustrious career as a renowned Hollywood reporter and on to her present foray into the world as author and Founder of The Trumpettes to support Donald Trump to become President, her diversity and perseverance know no bounds. Actually, it's not far-fetched to say that Toni Holt Kramer could be three different people…leading three very different lives!
One of those lives centers around Toni's fantastically successful Hollywood career hosting and co-hosting everything from "Good Morning L.A." and "Mid-Morning L.A." to being a live, on-air columnist for the afternoon and evening news. Toni also had her own syndicated show, "Toni Holt in Hollywood", as well as a TV feature called "Toni's Tips", shown exclusively in Latin America. In later years, she co-hosted the "Talk of the Town" series, which was filmed on location at events and parties all across Hollywood, New York, and Europe. When she wasn't in front of the camera, Toni spent her time writing numerous columns for some of the top magazines and newspapers. Early in her career the success of her column "Toni Holt's Happenings" in Photoplay magazine led to Ideal Publications giving her, her own magazine all together, called "Toni Holt's Movie Life."
In the cour
se of her television career, Toni has interviewed upwards of three thousand major celebrities, including movie and television stars, famed athletes, political VIP's, and even the Former First Lady, Nancy Regan. Arnold Schwarzenegger, George Clooney, Bob Hope, Tom Cruise, Clint Eastwood, John Travolta, Glenn Ford, Frank Sinatra, Merv Griffin and Johnny Carson …these are just but a very few of the tremendous stars that Toni has met and worked with during her time on the Hollywood scene. For a more visual snapshot of Toni's reporting talent, visit her website at www.toniholtkramer.com!
Toni's second life took her across the nation to Washington, D.C. During her first weekend in Washington, she not only attended the Bush inauguration party, but the night before she and her husband were privileged to attend the last party given at The White House by President Bill and Senator Hillary Rodham Clinton. It was a pivotal moment for Toni, and her relationship with Hillary flourished over the years.
Toni's  affinity for political pursuits might be traced back to her Great Grandfather, who was the financial advisor and best friend of Tzar Alexander III of Russia. And that brings us neatly to the heart of Toni's third life: her business acumen.
Acting as the prime decision maker in matters of the stock market, Toni works alongside her husband to oversee all the financial and real estate investments for her family and their charitable trusts. There is hardly a stock on the New York Stock Exchange that Toni can't give you the symbol for, and on some days, a closing price. She adores the financial world and spends endless hours a week reading and tracking the market around the world. At the core of her business beliefs is the conviction that to be an investor, one must be informed on politics around the world…and that she certainly is!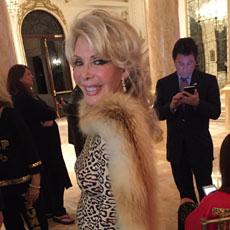 Toni, along with the love of her life, husband Robert Kramer, currently resides in Palm Beach, Florida, Palm Springs, California and Bel Air, California. She sits on the Women's Leadership Board at Harvard University, is an active philanthropist. The Kramer's love to travel and have friends all over the world, and, when they have a moment to themselves, they prefer to spend it playing golf, walking and entertaining friends.
Charismatic, stylish, and undeniably glamorous, this local girl from Brooklyn has made it big through her own unerring dedication to her dreams. Toni's full story is featured in her recently completed memoir, My Men, My Mother and Me!, which will soon be released. With a life as rich in experiences as hers, all that's left to question is "What will she accomplish next?" Hopefully, with the help and support of all her "Trumpettes"it will be reaching their goal of getting Donald J, Trump elected President and putting him in The White House to make America great again!.
.