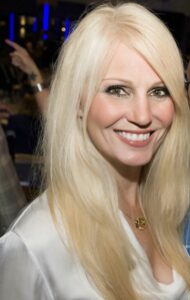 Hi! My name is Michelle Esposito. I recently turned 49 on Christmas Day 2019. I am originally from OK and TX and have lived in FL for 8 years. I have been an entrepreneur my whole life, starting a business before going to college and selling it after my first husband passed away. I was a widow at 25 and moved to Dallas where I attended SMU and graduated Cum Laude in Business. I have one son, Tyler – 27, who is amazing that I love dearly. I am a realtor at Douglas Elliman Palm Beach. I am also launching two other businesses – one that gives back to charity and the other a
luxury jewelry collection.
I met Donald Trump in March 2016 at Trump Doral and he couldn't have been nicer. Donald Trump is the first President I have ever voted for and I want to do what I can to support his re-election as I believe he has done an amazing job at making America great again. He gets the job done and is transparent in the process. He has put God and family back into this country, thankfully. Most people don't understand history which is why they don't understand politics. We have to have a louder voice than the left and the establishment. I feel very strong that Donald Trump needs to be re-elected to keep America great!