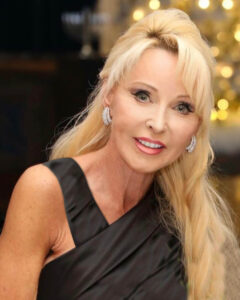 I am the proud mother of 6 children, 5 sons and one beautiful daughter who unfortunately passed away in 2011, my youngest son William (19) just joined the Marines and will be leaving March 16th for boot camp to serve our great country.
I am Realtor in Broward county and have been a Trump supporter for many years. Originally from California, I moved to South Florida almost 20 years ago. My mother was a peace advocate, starting an organization called Grandmothers for Peace in the early 80's, ( Still in existence today ) she traveled the world leading delegations of women (She spoke at the summit meeting with Reagan & Gorbachev) in the hopes of making this a better world for generations to come.
I have had the pleasure of meeting several world leaders at the World Forum meeting in San Francisco (80's) and presented a world flag to Mikal & Riasa Gorbachev signed by women from all around the world at the Beijing conference my mother attended.
Although these are accomplishments of my mother, Barbara Wiedner, fighting for what you believe in is how I was raised. I have attended the Trump meeting here in Broward and have rallied for our President.
I believe in our President would like to support the Trumpets in any way I can to Re-elect our great President! I have had the honor of meeting him at Mar-a-lago before he became President on New Years 2015 and have been an advocate ever since.
" Never doubt that a small group of thoughtful, committed, citizens can change the world. Indeed, it is the only thing that ever has." Margaret Meed…