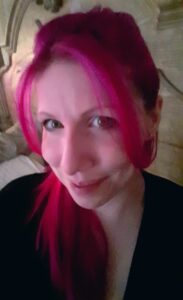 My name is, Selma Greer, and I am a music instructor. I teach voice and piano lessons, and am also a teacher at Taylor Robinson Music, and taught previously at two schools in Henderson. NV. Due to the pandemic, I have been on leave in order to keep all children and students as safe as possible. I believe music is a universal language, having the ability to speak to people in ways words are unable. Not only is it heard, but felt! I've naturally understood music since I was born, and it is an unwaivering passion in my life.
I grew up in Bel Air, California before moving to Nevada in 2002. I and am a published writer, having written columns in magazine articles such as, The Doberman Quarterly. I have also been a featured author in two poetry books. As a Rennaisance woman, I am observant and innovative. I am inspired by acts which hold a true purpose and which are driven by pure intent. My way of understanding and anticipating people is coupled with an intuitive nature. My mind is anylitical and idea-oriented. I thrive in problem solving, I'm able to inspire others first listening to them, and I strive to make choices to create differences that yield improved outcomes. Above all, I am a loving wife and a proud mother! My favorite time is time spent with my amazing family! We enjoy being around our fabulous parrots, macaws, cockatoos, and Dobermans, playing games, reading, discussing philosophies, playing music, and making music together!
Excellence is only standard! It is imperative and essential to maintain our truths and values. Believe in something great, love yourself, know yourself, be kind, never compromise on principles, speak the truth, be yourself, take on endeavors with tenacity and dignity, and live life in a way so grand, it could never be thought of in a past tense!