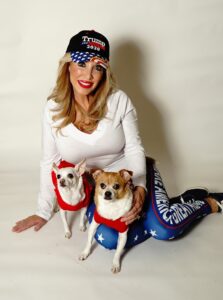 I was a proud Trumpette in 2020 and am now work on a Beautiful Women for Trump 2024 Trumpettes.
Jimisu and her Beauties works diligently to save the lives of God's precious animals which she lovingly calls fur babies. She is best known in the Houston area as "Queen of Fur Babies" and an advocate for saving homeless and abused animals and promoting women.
JIMISU has lead the fight in her mission of saving animals by founding her organization and volunteering for animal causes ranges from lobbying, fundraising, hosting and volunteering at adoption and animal events for many years.
Jimisu and Her Beauties are proud to announce our collection of calendars as Houston Strikes Out against Animal Hunger & Cruelty.
Our project is bringing awareness and making a difference of the serious issue of animal hunger, cruelty and neglect through modeling while promoting sophisticated, mature, intelligent women.
We are commencing a noble cause to end animal cruelty from this world.