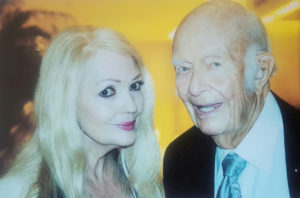 Linda Chapman-Henry and Husband , Col Thomas "Tom", Henry support and value our next President of the United States of America to be ; Donald Trump for all of the right reasons. Amen. We believe Mr. Trump is  a man of truth and wisdom. He is a man who weighs the options gaining opinions from intelligent and successful women and men who are experts in many fields of industry and business before making his choices in life. Donald knows how to get the job done right, no one is going to fool him. He educates himself as to the matters at hand to insure a successful outcome. I trust Trump. In the beginning of this most important race for saving America, our Constitution, our Military and our economy plus to insure our safety from terrorism I was not certain about Trump. Because of how the main stream media might try and bamboozle the public regarding Trump. Now I am certain for even the not so ultra intelligent people are finding the main stream media to be promoting a Marxist socialist agenda for America.
We as true Americans will not allow our great nation to become a socialist nation for the sheer fact we are Americans who believe in our Constitution and Our Bill of Rights.. NO longer will the atheists, who are socialist, who have chosen Hell by their freewill choice have a right to manipulate the rights of others. They are trying to take away the knowledge God gives each person, to know God's redemption from Adam's curse on mankind giving us the nature's of the flesh, which thwart our desires to seek fellowship with God. This salvation is given through Jesus Christ so as each person can have a freewill choice to escape the Hell Adam gave mankind. We are a true Christian nation even though Obama has tried his best to make us a Muslim nation, we are not going to let him. The one thing the Marxist socialist and the Muslim Islamist have in common, is they both hate Jews and Christians and will lie to each other to promote the down fall of a Judio- Christian America.. That is one reason why we must support and vote for Donald Trump. The Republican and Democratic establishment better get behind Trump now or the world will devour our nation. There is no other person who can stand up for American principles. amen VOTE FOR TRUMP.
Linda born in Michigan created by a father, William Carson Chapman, who was a patent holding inventor in the auto industry and a mother, Rosalie Chapman, who was a Martha Stewart type before Martha. An adventurer at heart, Linda moved to Palm Springs California in 1968. Finding the TV industry fascinating after doing the Joey Bishop, Johnny Carson, Bob Hope and Laugh In shows Linda followed in her cousin , Joan Billings shoes of Interior Design. Working with Joan in the 1970's doing Frank Sinatra's home. In 1973 Linda opened her own designing company and went on to being published in Home magazine with her work for Dr. Bill Rader. Retired from 25 years in interior design now Linda has a Christian ministry sharing her enlightenments about her amazing life in Christ. Married in 1984 to Michael Friedemann, who is the father of her daughter, Chrystall Friedemann a working actor in Burbank, ca. Linda is now married to Col. Thomas M. Henry , the founder of Delta Force and just recently inducted into the Ranger Hall of Fame for his astounding and profound career of 33 years in the US Army. Col Tom is certainly a character who surely is a man of character. He has been asked to write his life story, " Reflections of a Redneck Warrior," subtitled, "Kilroy was here and so was I" ; of which we are doing now . We have several producers interested in doing a mini series of his life.