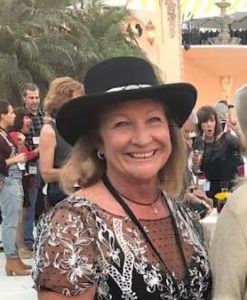 Born into a military family where my father was an Air Force lawyer and my mother raised seven children. The American flag was always flying at our house wherever we were transferred. My father was a WWII P38 fighter pilot and a true patriot. We attended countless air shows and parades honoring our servicemen and country. I was born in Alexandria, Virginia and I returned there once I graduated from Auburn University, Alabama. I married my husband there and raised my two beautiful daughters there – right in George Washington's backyard (Washington Farm). I started two children consignment stores and then a high-end Women's consignment store in Old Town, Alexandria. I sold them all when I retired in 2017 and the women's store (Encore) is still there in the same spot I sold it(Old Town waterfront). I've always been a Republican and supported Trump when no one else admitted it. I have been to both of the only two events at Mar-a-Lago dedicated to Trump. Please consider me a devoted Trumpster!
I have continued to support Trump in a mostly Jewish community who hates him. Everyone has their right to their beliefs so I do not force my opinion on them. However, I will correct them when they blatantly twist information and proceed with their stupid mantras. They know where I stand and do not even begin to test me on Trump's tweets or remarks. I will not stand for anyone's hypocrisy, which is where it consistently goes.
I am available to help because I am retired. As for now, I continue to support Trump, pray for him and his family and our great country.