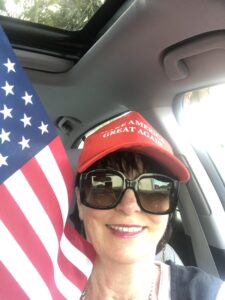 Born and raised in the southern part of Illinois. Worked in health care for forty years. Thirty three years in dentistry and seven years in podiatry.
I now spend six months in West Palm Beach and my summer six months in Illinois.
I am the mother of a daughter Maureen that is married and happy living with her husband in the state of Virginia.
I enjoy my time in West Palm Beach where I am able to greet our President when he comes home to the winter white house. I am one of the bridge people or sometimes referred to as The Trump Squad who stands in the sun shine or rain holding signs and waving the American flags when our presidents motorcade passes. I want him to know how much he is appreciated for all his hard work keeping America safe and great.
I want to do all I can to make sure he is elected to four more years. He's amazing and the greatest President.